Pool Information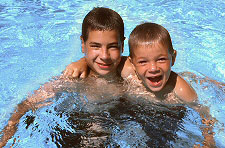 The North Gate Pool is one of the most beautiful pools in Washington County. The pool is surrounded by an iron and brick privacy wall that adds beauty as well as security. The pool is maintained by the community association and staffed with certified lifeguards whenever it is open. Two diving boards and a kiddie pool insure that all North Gate residents and their guests will enjoy this spectacular amenity. If you have someone in your family with special needs, please call to request any accommodations that need to be made.
If you are interested in using the pool for a party or function, you will need to schedule that separately from the Community Center.
Pool Hours
June 1- September 3:
Sunday - Wednesday 10:30-8 Thursday- Saturday 10:30- 9
September 4- Labor Day:
10:30-6

Pool Manager- Dax Zombro; 240-527-8249; daxzombro@yahoo.com

Pool phone number: 301-791-9121

Pool Membership Applications due by April 30, 2018
The Pool Season wil run from May 26, 2018 to September 3, 2018
2018 Policies
North Gate residents are allowed 2 free guest per day per membership. Each additional guest is $5 per guest with a limit of 5 guests per day per membership (this includes free and paid guests).
Homeowners dues must be kept current for owners & residents to have pool privileges.
Click here to download the 2018 pool membership application.
Tenants
Homeowners who rent their townhomes to tenants will have to decide whether they will have a pool membership or they will allow their tenants the membership.
There will be one application given per property
. The application has been sent to the owner. The decision will be between you and your tenant. If you decide to allow your tenant the pool membership - we will need a copy of the front page of their executed lease. The names enclosed on the lease will be the pool cards that are issued. It is the owner's responsibility to get the application to their tenants. The household without the membership may buy an outside membership to the pool.
Outside Memberships
Outside memberships are available and need to call the office at 301-791-6231 to be placed on the waiting list.
Outside memberships to the North Gate Pool are $600.00 for a family of four with a $75.00 per person fee for additional members (limit 7 members).

The price for a one-person membership (that is for one person only) will be $400.00. The price for a couple's membership (That is for two people only) will be $500.00.

Outside Members are allowed 2 guests per day per membership at $10 per guest.