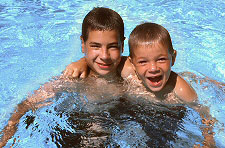 Northgate Pool Operating Guidelines for Opening
Our plan is to open the Northgate Pool on June 12, 2020. We will be following the guidelines set forth by the State of Maryland and the Department of Health. As of this writing, those guidelines include:
We can allow up to 25% of our capacity which will be 60 people (including staff) While this restriction is in place, we will not be allowing residents to bring any outside guests with them to the pool.
We are required to maintain social distancing guidelines. We will have the deck chairs spaced six feet apart and no tables will be set up on the pool deck.
Face masks are not required in the pool, but will be needed when interacting with staff and other guests outside the water.
We will not be collecting membership cards. When you enter the pool, you will show your card to the staff member on duty and sign the sheet provided. Your card will stay with you.
The wading/kids pool will not be open.
We will be following sanitation procedures outlined by the health department.
Water Fountains will be shut off.
No Concessions will be available for purchase.
We are considering extending the pool season into September. As the guidelines evolve we will review the policies and pool season and note any changes on the website.
We ask that you review the pool rules you received with your application and make an extra effort this season to be safe and have fun.

If you need a pool application, Click Here
If anyone has any questions or concerns regarding these guidelines, please contact Tom Finn at 301-733-4844